The Democracy of Design

2020-04-01
Martin Darbyshire is the founder and CEO of design studio "tangerine" with offices in the United Kingdom, Korea and Brazil. Martin is a leading authority in innovative design and strategy, with 30 years of experience in the design industry.
Just before lunch in Germany, in late winter, Asia President of the Red Dot Design Award Ken Koo, caught up with Martin Darbyshire for a chat about progressive design today and for the future.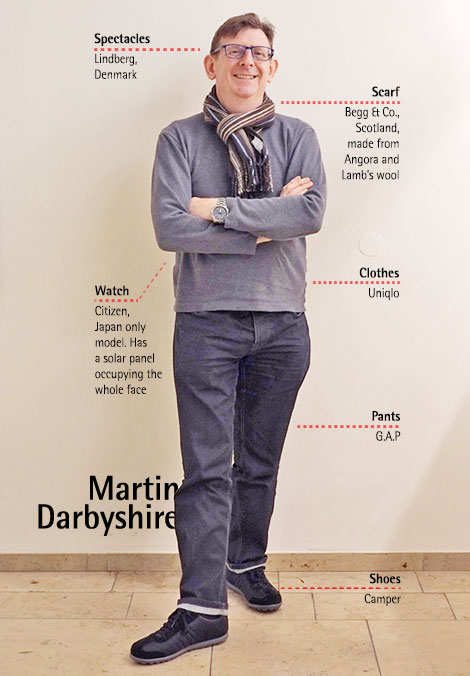 Ken Koo (KK): We talked about Uniqlo offering affordable, good quality and decent design. Is there a trend towards a more democratic design?
Martin Darbyshire (MD): I think designing for everybody is really important. If you can make something successful that appeals to the widest audience, that is one of the most important facets of design. In the very beginning days in my career I worked with Ford, designing car radios. It is almost the perfect project because everybody had to be able to use it as it comes with the car. But it also had to be sufficiently aspirational for people to want it and not change it for something else. Those kinds of problem are the most interesting design problems, designing for everybody.
KK: Give us another example why designing for everybody is a good approach?
MD: If we were designing transport systems. If it's for Cathay Pacific and we are designing the economy seat, we have to create a good experience for someone who is in a really confined space. And that is a really interesting skill and it is an interesting problem to solve. If you can solve that problem, then designing a first class suite is relatively easy.
KK: Are you saying that designing a first class suite is easy?
MD: The problem with designing in the first class spaces is how do you create something better which is already expected to be different and better. Many people think it is just to throw stuff at them, throw features at them. But the challenge is how can you deliver something which has less but more. Is it a new dimension to the experience you have never thought of, or it genuinely makes the experience better, richer and more meaningful, more special, more intimate, more personal.
KK: What do you look for when you judge the works at the Red Dot Award: Design Concept?
MD: I think that's about the idea because you cannot assess and place judgement precisely on the end outcome because you are not experiencing it. To me, it is so much about the notion of the idea and then in what way they have tried to solve it in an original way. What you can do is, you can sense, you can understand the problem and you can get some indication of how insightful the thinking is behind the solution.
KK: Are you more sympathetic to a concept that is more democratic or a luxurious concept?
MD: I think it can be either because actually there are different kinds of problems, and designers need to be able to respond to all sorts of problems. The key element is understanding who the customer is and what makes that thing right for the customer, or what sort of problem is it, how unique is the problem, and how clever the solution be resolving those things.
KK: What is always difficult to design?
MD: Designing anything that has been designed in many multiples, over time. Like designing a chair, designing a knife and fork, designing spectacles etc. Defining a new version of something that is well known, and genuinely is better. I think that's the really big test. Is it really, actually better or is it just different, and you really, ideally want to make something better.
KK: Are there any development on the horizon that could dramatically change things as we know?
MD: I think materials will make a big difference to our lives. People talk about wearable items, but personally, I don't think they're quite as important. I think embedded things will become much more important, so things are actually embedded into the body. Those things will make a big difference, over time. Whether they're used for just medical conditions or situations, or whether they're used actually to change lifestyle. I think it will also exist in communication. Maybe we will all be more connected and we will be receiving messages in different ways from just looking at things. There is also a big opportunity to connect with older people, or older and younger people reconnecting. I think that's important.
KK: Okay, thanks for your time for the interview and insight
MD: My pleasure. Okay, now I need a beer...