Design: A Korean perspective

2020-04-01
Prof. Dr. Ken Nah has been a part of the Red Dot Award: Design Concept jury since 2009. Prof. Dr. Nah is a Professor of Design Management and is also the Director of the Human and Experience Research (HER) Lab at International Design School for Advanced Studies (IDAS) in South Korea.
After a judging session at the Red Dot Award: Product Design, Ken Koo and Prof. Dr. Nah talk about design and how a small device has taken over their lives.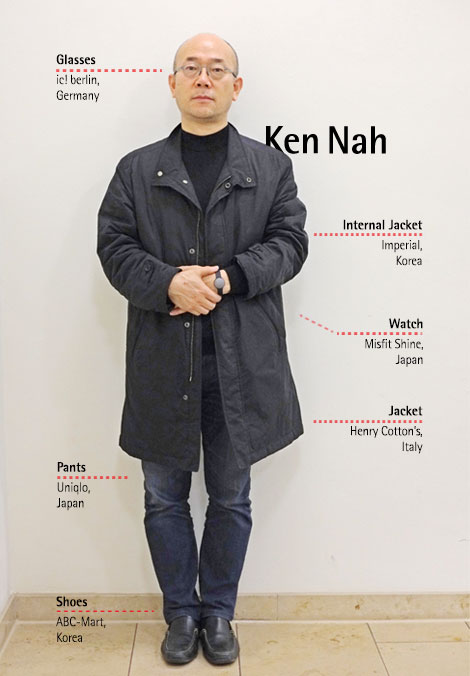 Ken Koo (KK): I understand that you like to monitor your activities. Tell us more about it.
Ken Nah (KN): Yes, if I tap it (Misfit Shine) twice, it tells the time, followed by the progress of the work that I have done so far.
I synchronise it to my phone, then I have more exact information about my exercise of the day and it keeps track, not only of my exercise, but also sleep. It is quite amazing, depending on the distance and time, it automatically classifies the activities into 5 different kinds of activity levels.
KK: Does it really help you?
KN: Yes, because through the app I can keep track and set my goals. If I achieved it, I feel happy, just like a little boy, but if I don't achieve my goals for the last several days, I feel like I have to do more work to cover it
KK: Increasingly, I see a lot of such devices that measures and communicates with you. Our smartphones are increasingly doing everything for us, they reduce the number of products in the market, and at the same time, produces new complimentary services.
KN: Exactly, it observes the pre-existing products and then brings out new kinds of business models and services, I think it is really a good thing as it converges many different services and devices, acting like a command and control centre for me
KK: Do you foresee anything new in the horizon? How will smartphones change our lives?
KN: I think with our smartphones, we can actually explore two different extremes. On one side because of it, I spend more time alone with my phone and it really gives me some time to reflect on issues. On the other hand, I use it to spend more time with others, through the SMS, group chats, Facebook etc.
KK: It is an interesting insight that I have not thought about. What you said is true, that smartphones give us more time to ourselves, yet it also gives us more interaction time with people. Does it mean we have less resting time now since we still only has the same 24 hours?
KN: That's the problem, before, with a transition from activity A to activity B, there is some transition time, but with this, the transition time gets shorter and shorter, almost digital, going from zero to one, doing this and that immediately. So, even though it is the same 24 hours, I think we use our time more efficiently.
KK: Do you feel an over reliance on smartphones, even on holidays, since you are immediately contactable, you are expected to immediately reply to any situation.
Is there something that designer should think about when they develop complementary services on the smartphones, instead of always making everybody ever more busy?
KN: I think that's a really good question. Right now, in Korea, the designers and design society are in a sort of deadlock, because we need some kind of breakthrough to escape this current situation.
Designers should consider both the good and the bad. In Asian culture, there is "Yang" and "Yin", the positive and the negative. So far, designers only think about the positive aspects, to design something attractive and be commercially successful. They should also think broader and have further perspective, by including possible negative aspects.
They can work side by side with management ,engineers, scientists and the liberal arts people., through inter-disciplinary or what some people call trans-disciplinary collaborations, something new and innovative can then happen.
KK: One last question. What is the general direction of the Korean design development now? Why is there a big number of Korean participation in Red Dot Award: Design Concept and this is from a comparatively small country.
KN: A couple years ago, every design student's dream was to work at Samsung's design centres, these days, not anymore. Right now, they have more than 1,500 designers, but there are only a limited number of end products and they are the same every year. There are not so many things for the designers to do. Right now, we are thinking about design 2.0. Before this, it was about home appliances and all about serving the corporate.
Today, Korean designers are looking into the future, because the companies are really looking for people who are good in concepts. Designers should think about the strategies in the future, so it is about new concept I think that is the general direction of the Korean designers right now, and even all the education goes to that direction.
KK: Thank you for the interview.