Invitation from Founder of Red Dot | Smart Design: A new arena for contemporary designers?

2022-08-17
As we embrace the digital age, a growing number of smart technologies are being applied to the R&D of product design and its manufacturing, and more and more smart products are reshaping and changing our lives.
With the rapid progress of a new round of global technological and industrial revolution, the technological combination of cloud computing, data analytics, biotechnology and the Internet of Things with modern industrial manufacturing is driving profound changes in product design and industrial design. New products and designs with smart technologies are the inherent driving force behind a new round of technological and industrial revolution.
"The way to the world's technological peak is independent innovation". Technological innovation and smart manufacturing have been elevated to a national strategy, and the emerging opportunities of the next decade will come from smart manufacturing.
In the era of Industry 4.0, what needs to be changed is not only the manufacturing technology, but also innovative design and R&D from the manufacturing enterprises. For industrial designers, smart design thinking has become a powerful tool for personal development and career advancement.
So, from what angles can industrial designers make their ways to the world of smart design? In general, opportunities from the following three levels can be considered.
# 01
Smart design of products
The most common and easily perceived element by the public is the digital innovation of products. Through smart design, it provides more digital functional attributes to products and is constantly being updated in an iterative manner.
Such examples include smartphones, tablets, smart floor cleaning robots and etc. Smartphone users can not only make calls and send text messages, but also enjoy entertainment on global social networking sites, conduct personal health monitoring and management, as well as control of smart home appliances.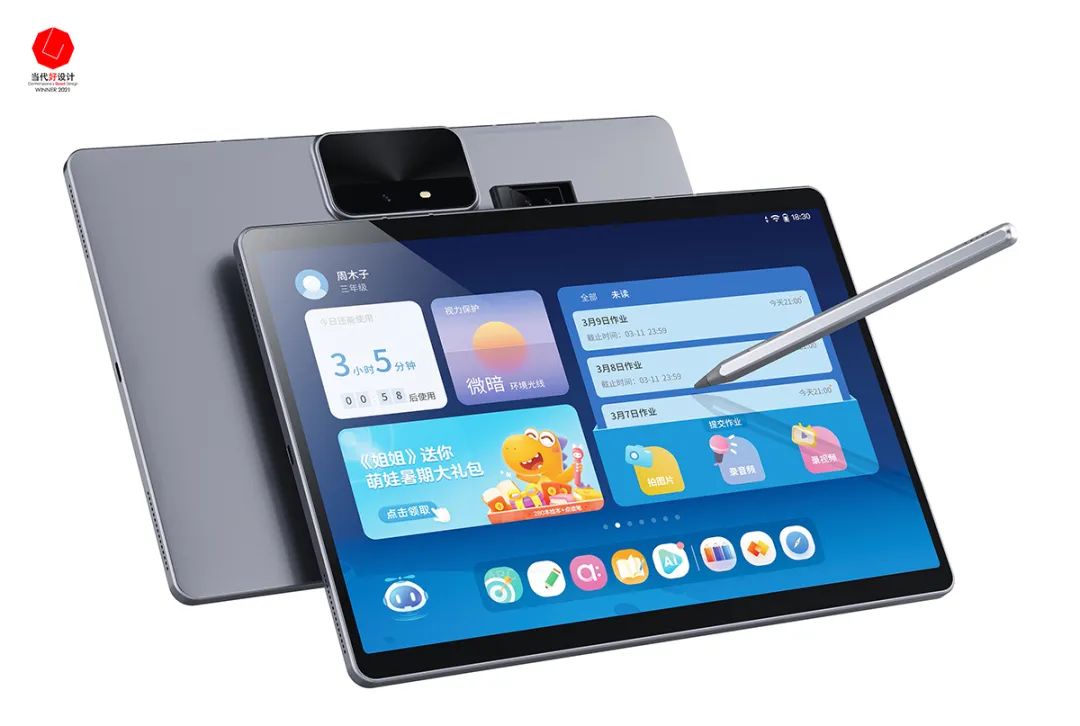 iFLYTEK iStudy T10
Brand: IFLYTEK Co., Ltd.
Design: IFLYTEK Co., Ltd., Chen Zhu, Yuhao Cao, Songquan Yang
2021CGD Winner
# 02
Data services
With the development of the Internet of Things, smart products go beyond the scope of individual products and devices. Designers and product developers build a whole world of data processing behind the physical products.
Take smart home systems as an example, what designers create is not just separated smart appliances, but a set of interconnected, digital design driven products. They can provide users with a complete smart home experience by gathering, analyzing and processing user-generated data.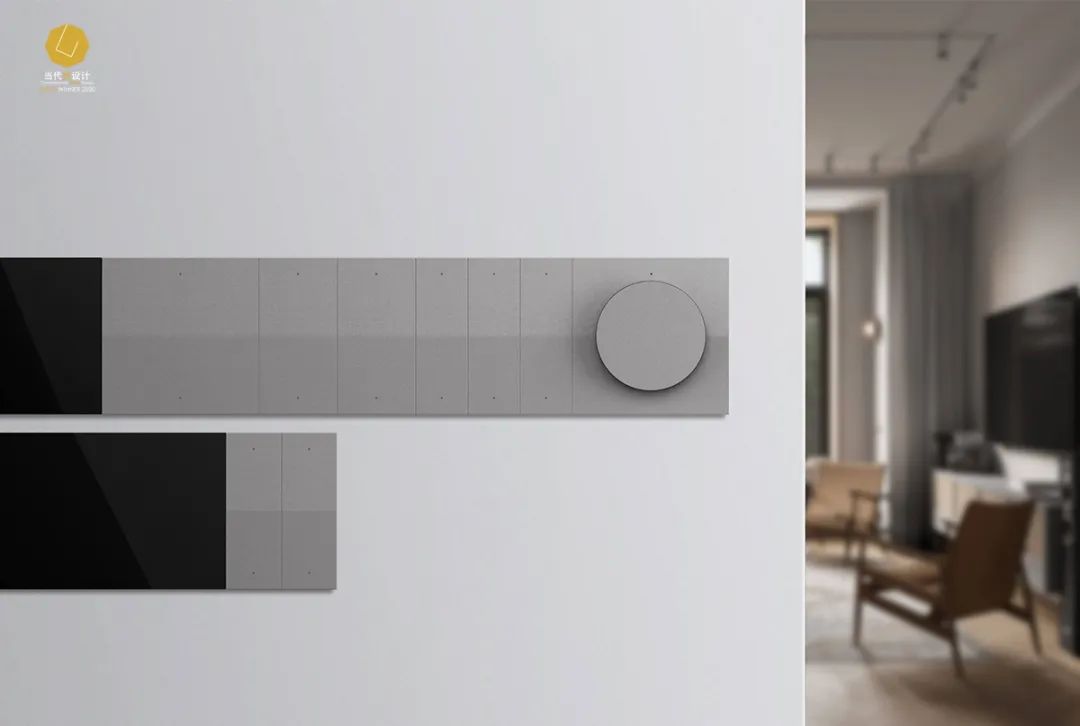 TCL Master Pad
Brand: Shenzhen TCL Digital Technology Co., Ltd.
Design: TCL Electronics Holdings Limited IDC-Industrial Design Center
2020CGD Gold Winner
# 03
Integration of product design, R&D and manufacturing
The future of smart manufacturing design is based on industrial design and industrial manufacturing industry, It is an integrated system design that connects product development, manufacturing and production.
Through smart design, multi-dimensional big data can be well integrated into design at an early stage. By factoring in user profiles, user preferences, interaction feedback, scenario needs and market feedback, it can facilitate collaboration and innovation throughout the design process. Consequently, this will help improve flexible production efficiency, enhance customer experience, promote the transformation of the "manufacturing + service" model, and integrate various technologies that can be applied in developing a new generation of smart products into the system.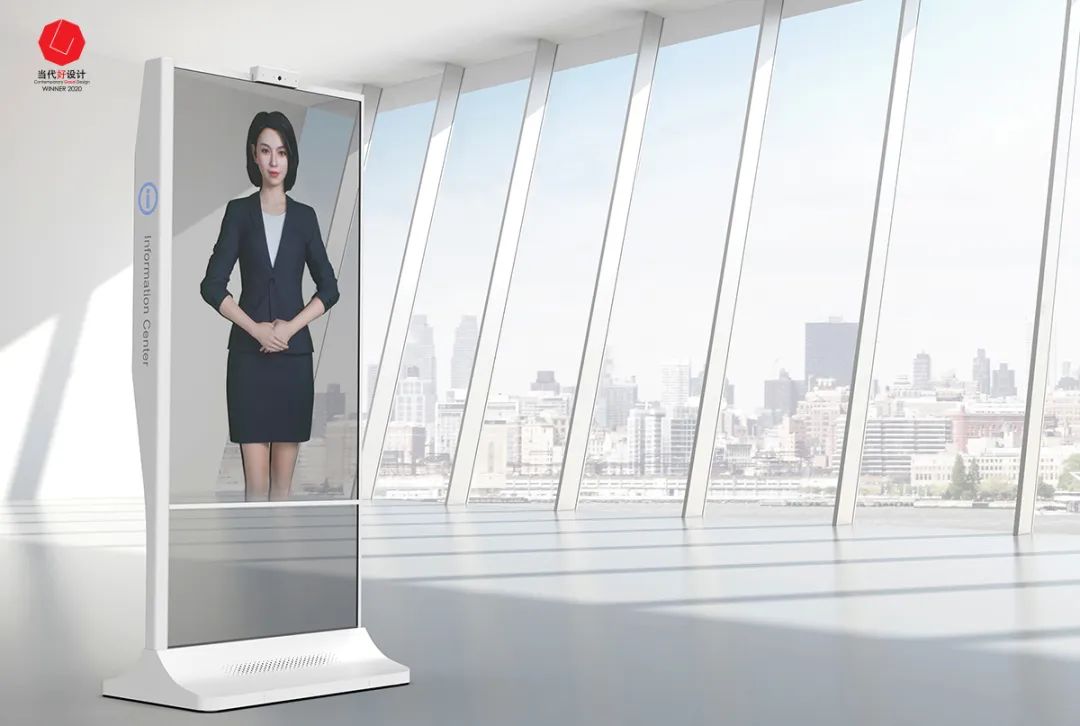 Digital Human Intelligent Screen
Brand: Beijing Baidu Netcom Science and Technology Co., Ltd.
Design: Baidu AI Cloud HCI Lab
2020CGD Winner
In fact, smart design covers a wide range of application scenarios. In addition to the existing smart products, smart home and smart wearable devices, there is great application potential in the field of environment/security monitoring, smart transportation (smart civil aviation, smart ports), smart logistics, smart health care, immersive virtual space design, and etc.
By reviewing the latest award-winning products in the metacategory 'Smart Products' from 2022 Red Dot Award:Product Design and 2021 Contemporary Good Design Award, we have summarized some smart product cases, ranging from smart home, smart logistics and life and health, so as to provide valuable references for designers to venture into the smart design field.
Atmocube
Brand: Atmotech Inc., San Francisco, USA
Design: Igor Mikhnenko, Petr Kudryashov, Pavel Titov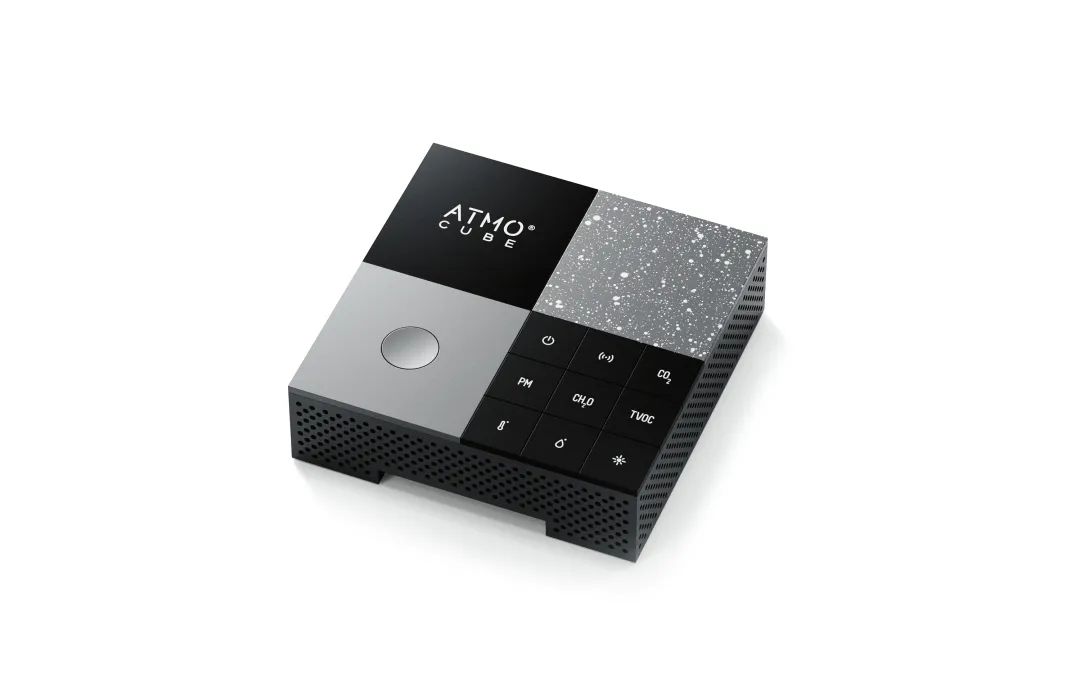 Red Dot:Smart Product
2022
Atmocube is an intelligent indoor environmental monitor. Its compact body contains 12 integrated sensors that measure all of the main environmental metrics, including air quality, thermal comfort, humidity, noise and light levels. The user interface has a clear design that uses self-explanatory LED icons to show the current status. Its modular concept means that both the housing and the internal components can be customised.
myPiggy
Brand: VR Family Finance GmbH, Mittweida, Germany
Design: Cheil Germany GmbH, Janine Krämer, Sascha Kirpal, Andreas Gruyters, Schwalbach, Germany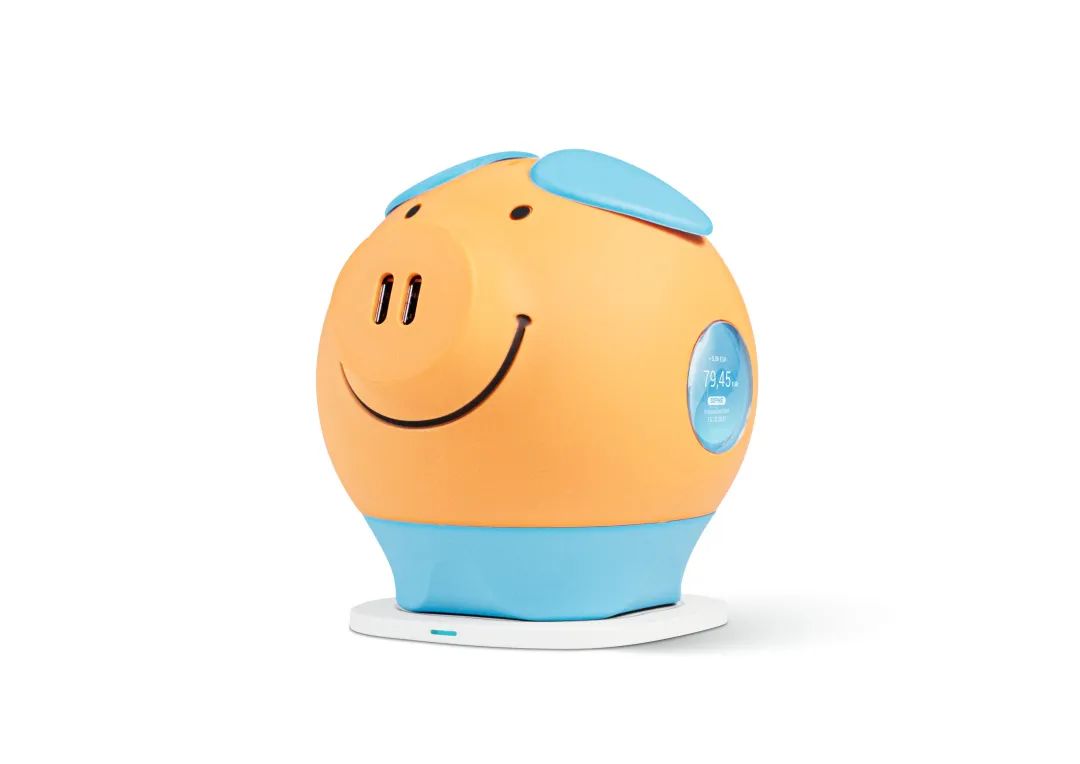 Red Dot:Smart Product
2022
myPiggy is a smart piggy bank that records the amount of money inside precisely with the help of electronic controls integrated in the base. A round LED colour display serves as the user interface. Together with the app, it allows for more in-depth interaction, such as setting savings targets, playing counting games or using the integrated clock function. Additional features include an integrated speaker, a snout that serves as a USB power bank and a curly tail that can be twisted out to withdraw money.
Wis001
Brand: Midea Group (Shanghai) Co., Ltd., Shanghai, China
Design: Whipsaw Inc., Akifusa Nakazawa, Gu Wei, San Jose, CA, USA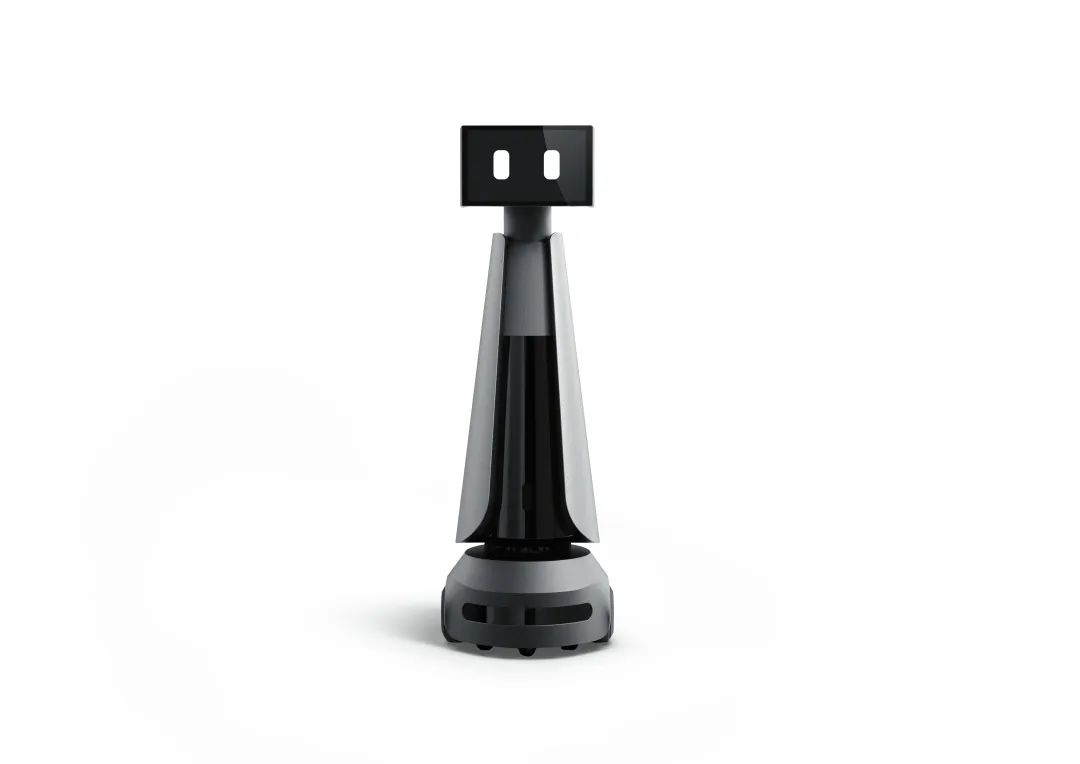 Red Dot:Smart Product
2022
Wis001 is a smart home platform that can be used to control household appliances and smart home functions centrally. The robot uses artificial intelligence to learn and thus to adjust settings independently. It also serves as an entertainment platform and monitoring system for home security. The robot is controlled via a large touchscreen in the "face" area.
Milo™ – The Action Communicator
Design: Loose Cannon Systems, Inc., San Francisco, USA
Design: Monokoto, London, United Kingdom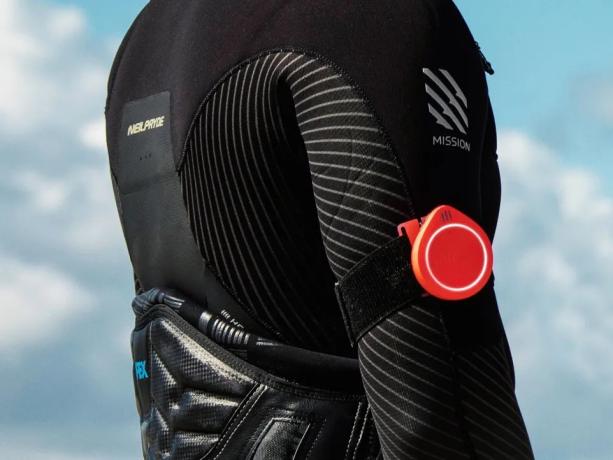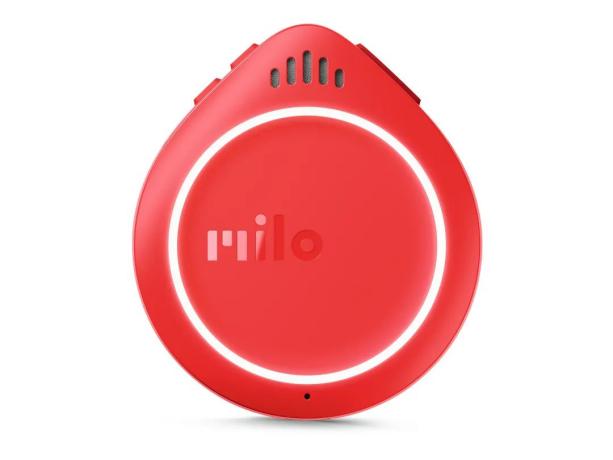 Red Dot:Smart Product
2022
Outdoor sports such as cycling, surfing, paddleboarding or skiing can make it difficult to communicate over a long distance, particularly if you have not got your hands free to use other aids. Milo has a straightforward solution for such situations: a small, droplet-shaped device that can be attached to clothing with the help of a magnetic clip and can then be paired with other devices to create a standalone network which allows users to communicate without having to press a single button. Groups of people can hold spontaneous natural conversations in real time thanks to multiway transmission. This is made possible by sophisticated audio processing algorithms that every Milo device combines with six integrated digital microphones and a special built-in speaker to deliver a clear audio signal even in windy or noisy conditions. The range between devices exceeds 1,000 metres, and the encrypted MiloNet mesh network extends this range even further if users are at a greater distance from each other. The device can be operated with only a few, well-placed buttons, for instance to pair devices or activate the mute function. If desired, Milo can also be paired with a Bluetooth headset, and it is waterproof and very sturdy.
Benchtop Sequencing Lab
Brand: MGI Tech Co., Ltd.
Design: MGI Tech Co., Ltd., Shiyou Wei, Xing Shi, Tao Shen, Yin Zhang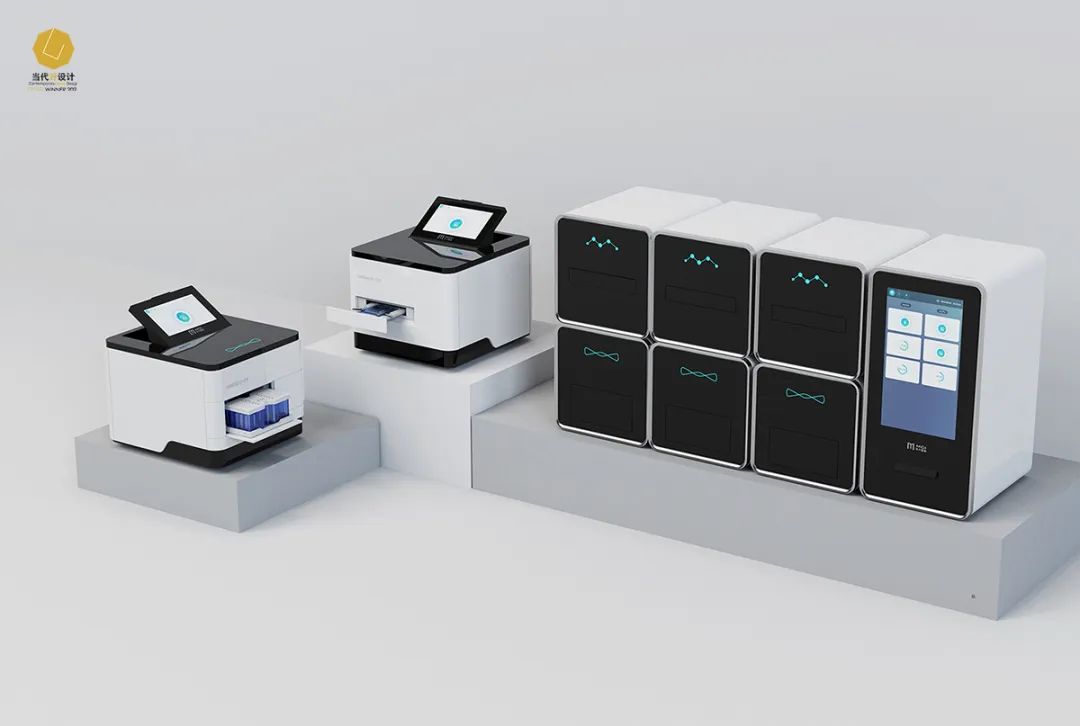 2021CGD Gold Winner
D series of Benchtop Sequencing Lab can perform sample preparation while E series can provide gene sequence information of samples. When used together, the two instrument series can cover the whole work flow of genetic sequencing. By reducing the complexity of operation, such high-tech instrument makes genetic sequencing more affordable and accessible for general scientific research and healthcare community.
DEEBOT X1 Family
Brand: Ecovacs Robotics Co., Ltd.
Design: Ecovacs Robotics Co., Ltd., Jacob Jensen Design
2021CGD Gold Winner
The DEEBOT X1 Family combines the minimalist Nordic design with cutting-edge technologies. The smart interaction and simple controls empower a fully automated and ultra-clean floor cleaning experience. As the first robotic product with a built-in AI voice assistant, it allows a more natural interaction. Featuring self-cleaning, auto water replenishing, and dust collecting, the OMNI one-stop cleaning center defines a higher level of convenience and hygiene.
Container 5G Intelligent Supervision Terminal
Brand: Maxvision Technology Corp.
Design: Maxvision Technology Corp., Bowen Qu, Yu'en Zhao, Lianqiang Cheng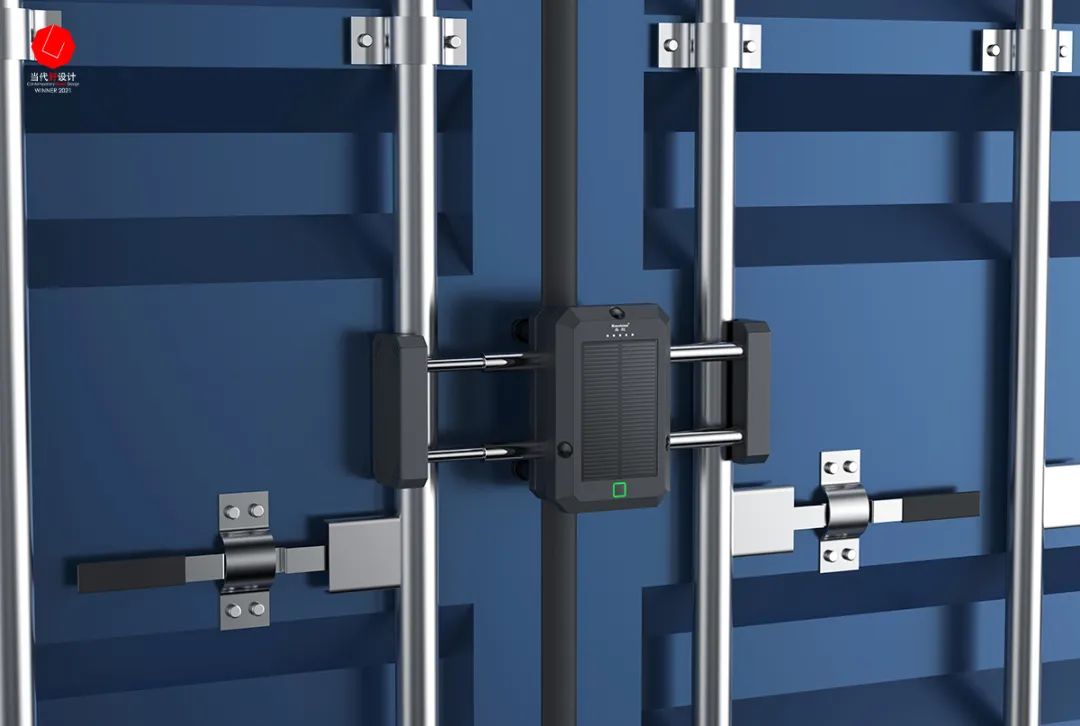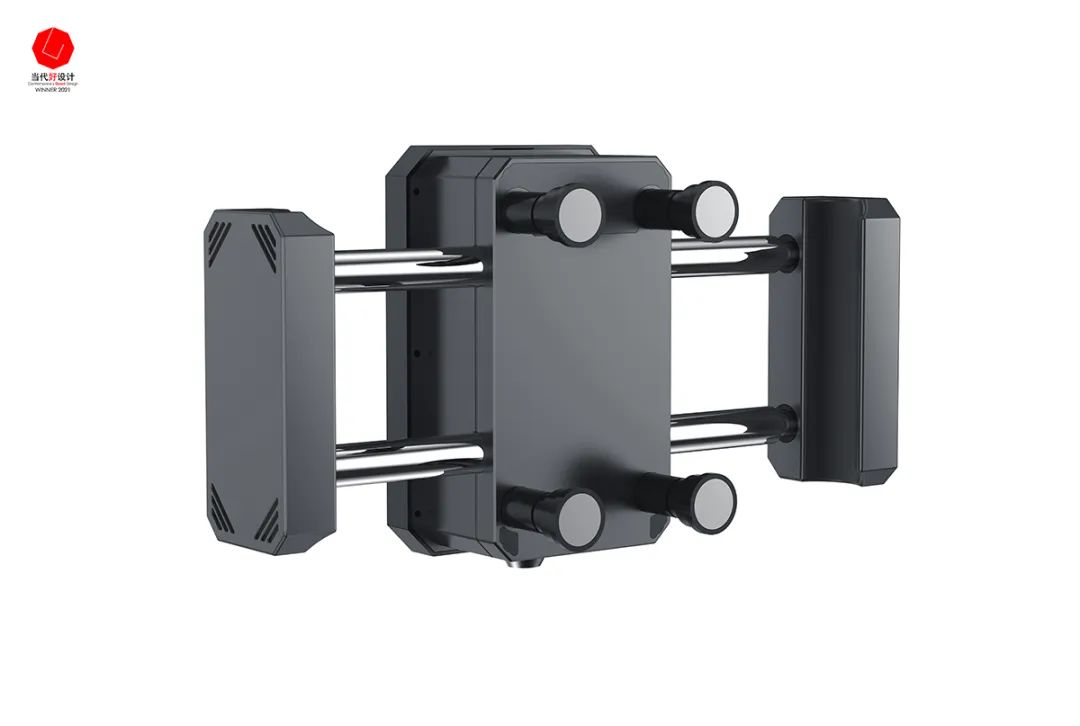 2021CGD Winner
The Container 5G Intelligent Supervision Terminal is an all-weather smart monitoring equipment integrating software and hardware for smart visual supervision of containers in transit. The terminal supports 4G/5G real-time image and video transmission, multi-dimensional real-time satellite positioning, and motion trajectory visualization. There are multiple flexible lenses for monitoring. It is safe and reliable, and supports remote startup and unlocking.
Magic Pad Lite
Brand: Xiamen Leelen Technology Co., Ltd.
Design: Xiamen Leelen Technology Co., Ltd., Liqing Huang, Lurong Liao, Yumin Cai
2021CGD Winner
The design style of Magic Pad Series is simple, the cloth texture technology is applied for the first time, and the MIC matrix is cleverly hidden in it, so that the product can be integrated with the environment. A variety of control methods including the key function, touch screen and AI voice function can meet users' needs for intelligent experience. The UI design adopts the design of micro-motion effect, which reflects the humanistic care of the product brand for users.
With the emergence of so many outstanding smart designs, and to further encourage and recognize design products with outstanding performance in the field of smart manufacturing, the 2022 Contemporary Good Design Award will include a new metacategory "Smart Products", which calls for entries with smart features, be it connected or digital products.
For the metacategory "Smart Products", the international jury will conduct two rounds of judging. During the first round, the experts will pay attention to the holistic design while in the second round, the focus is on the smart features of the product, such as the interaction design, connectivity and overall system of the product, as well as the optimized and revolutionary form and usage of the technology.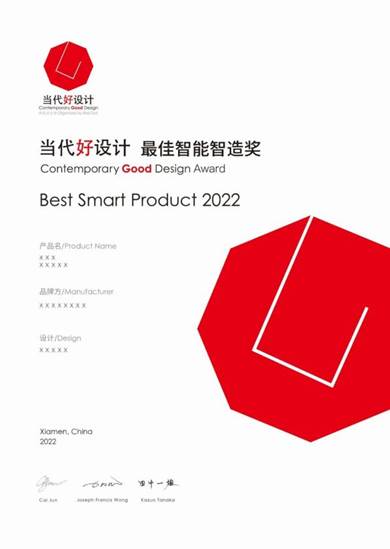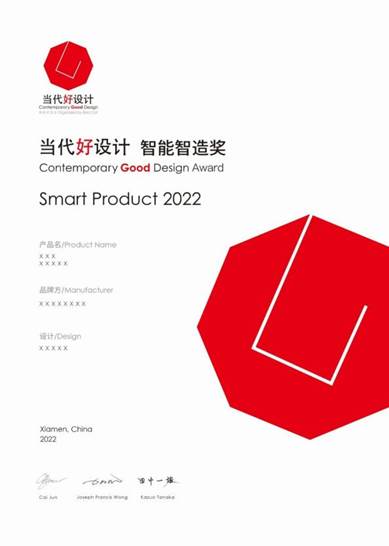 Applying for the Metacategory provides you with a chance to win two awards, and your achievements in both design and 'smart manufacturing' will be recognized!
Metacategory How to get registered?
To apply for the Metacategory, you must first apply for the traditional category, which serves as the basis for judging the quality of your design.
When registering for the traditional category, fill in the corresponding company and product information and tick the Metacategory "Smart Products" box simultaneously to complete the registration for the metacategory, and the registration fee is incurred twice.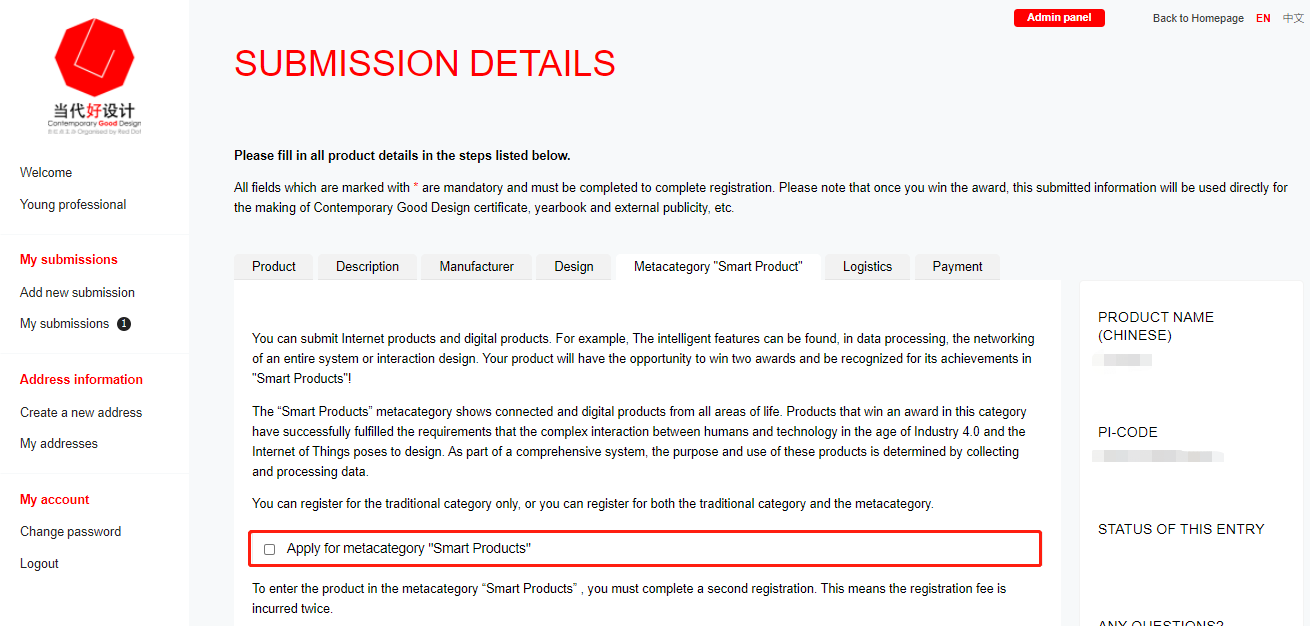 * If you have already registered or paid for the traditional category, but wish to register for Metacategory, please contact the organizing committee and our staff will assist you with your follow-up registration.
If you have any questions, please contact us at award.cgd@red-dot.cn.
2022, Stay Tuned for This Year's Contemporary Good Design!